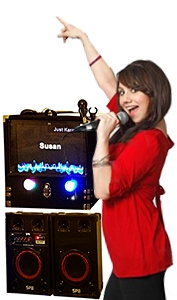 Looking to hire an easy to use karaoke machine for your party?
$220 For Overnight Hire
Flexible Pick Up and Return Scheduling
$500 Bond Required
For Karaoke Machine Hire Call (02) 9747 2186
Between 9am and 5pm 7 Days
We supply Karaoke Machine Hire for events in the Greater Sydney Region. Our machine is an all inclusive DIY karaoke party. It has over 12,000 tracks tracks available. All quality renditions. Built in Stage/Disco lights.  The most complete Karaoke Machine rental available in Sydney.
Is this karaoke machine Easy to use?
Yes. With a choice of 2 Player Apps, Simple and Advanced. Even the Advanced Player is easy.
Songs can be programmed to Set And Forget. Allocate a song to a singer. The karaoke machine will call up the next singer. Song order can be changed as required. No need to cue the next singer, their name will appear on the front screen and start automatically.
Is this karaoke machine right for my party?
The separate karaoke machine and speakers means it can adapt to any event layout. The song selection interface is on the top of the machine so songs can be selected without obscuring the singers view of the front screen. Select your song while someone is singing.
This karaoke machine caters to all levels of singing experience. 3,000 (out of the 12,000) of the popular songs come with a guide track to assist the singer. The pitch can be adjusted to the performer's vocal range.
What if you don't have the karaoke song I want?
No Problem. Let us know before hand and we'll do our best to make sure the karaoke song is available for your party.
DIY Karaoke Machine Hire – $220 inc. GST for overnight hire plus bond.
Top View
The user interface. Keyboard, mouse and screen.


Front View


The song lyrics screen. Two spinning Disco/Stage lights.1. Karaoke Juke Box.
– Two Screens, for operation and karaoke display.
– 11,000+ karaoke tracks.
– Instruction videos.
– Simple and Advanced Options.2. 2 x Built in Stage/Disco lights.3. 2 x Microphones.
– Microphone reverb control.4. 2 x 8″ 200W Speaker.
$220 inc. GST – Overnight Hire
Bond required: $500
Check delivery prices on our Delivery Map. 
Zone 1: $44 inc GST.
Zone 2: $88 inc GST.
Zone 3: $132 inc GST.
Zone 4: $180 inc GST.
Zone 5: $220 inc GST.
Pick up and return the Karaoke Machine Yourself?
Yes. Karaoke Equipment can be picked up from our us to avoid delivery charge. Pick up and return time will need to be arranged in advance. We will demonstrate how to use the karaoke machine on arrival. It comes with comprehensive How To video tutorials installed.
Check the dimensions below to ensure the karaoke machine and speakers will fit into your vehicle. While it fits into just about all sedans check dimensions to be sure. Bring a thick blanket to avoid upholstery scuffs.
Dimensions: The Karaoke Machine is 55cm High, 54cm wide and 53cm long. Weight 30kg.
The 2 speakers which are each 49cm high 30cm wide and 20cm long. Weight 8kg and 5kg respectively.
Where do I pick up the karaoke machine?
We are located in Epping. You can pick up the system from Epping. Contact us for details.
What is the quality of the karaoke tracks like?
The karaoke backing tracks are sourced from the best available.
You can also hire equipment with your Karaoke Machine rental to meet your custom needs.
Quick Setup Guide
Where feasible the karaoke system will be set up upon delivery and packed away when picked up.
This guide will take you through the setup should it be required.
Setting up the Karaoke Machine is quick and easy. Each machine comes with instructional How To Videos.
Here are some tips on running a karaoke party.
Karaoke Party Hire – Karaoke Machine