Croydon Park Hotel - Inner West Karaoke
Hiatus: Karaoke not currently running. 
Sydney's Inner West karaoke at the Croydon Park Hotel draws a solid crowd from this region. This show has a very regular crowd who come week after week. The karaoke is held in the main public bar of the Hotel. Prizes are given in the form of Bistro Vouchers and Bar Vouchers to add the the atmosphere and cross promote the venues Bistro. Studies show that a person is far more likely to become a repeat customer of a Bistro is they have eaten there before.
Karaoke Samurai provides all the AV equipment, the karaoke system, songbooks, stationary and the Karaoke Host for this client. We also designed the in house posters.
The Croydon Park Hotel started it's karaoke night with us and has seen the show grow to be the Inner West karaoke venue of choice on a Saturday night. While other venues in the area have shows on a Saturday night they frequently change operators. There is a lot of competition for Inner West karaoke shows. Karaoke Samurai has been continuously managing the karaoke at this venue since early 2011. And as things are going we look forward to a long relationship providing entertainment to this venue.
Croydon Park Hotel has karaoke every Saturday night from 9pm to 1am.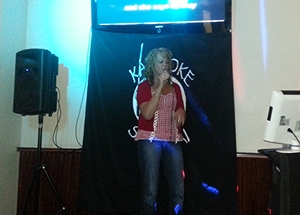 Back to Karaoke for Pubs and Clubs
Back to Karaoke Samurai Venues


To see the latest review for the Saturday Night Show at the Croydon Park Hotel go to karaokesydney.com. You'll find other other Inner West karaoke venues and places that have karaoke at pubs and clubs all over Sydney.
Page - Inner West Karaoke